Kuijerdamseweg - VZ275 - Cottage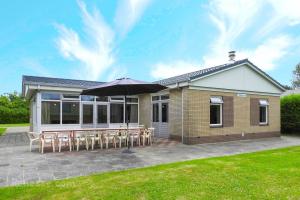 Just outside of Renesse you will find ellemeet where you this beautiful and luxury 16-person group accommodation to rent. The accommodation is very spacious and luxury and is ideal for families, friends or colleagues. It is also suitable for disabled access and there may be high/low beds. The leisure park is very popular with families, friends, clubs and water sports enthusiasts. Especially this last group can.Ellemeet lies in the proximity of the North Sea Beach and Lake Grevelingen, making it an excellent place for divers and surfers. But also nature lovers are well catered for, the cycle system you through beautiful countryside, will give you many hours of cycling fun!The park offers you multiple facilities including a  supermarket,  playground and petting zoo. Not all facilities are open all year round. Come enjoy your beach holiday with peace, space, nature and water sports in a luxurious setting by this group accommodation in ellemeet rent for up to 16 people-If you wish to stay until 17:00 on Sunday evening this is possible, you will receive a EUR 75 discount.
Luxurious 16-person family accommodation on holiday park in Ellemeet, near Renesse
For information and reservation
Search & Book
Kuijerdamseweg, Ellemeet
tel. +31 118 744 025
web.
More information