Eikenmeet 8 - Cottage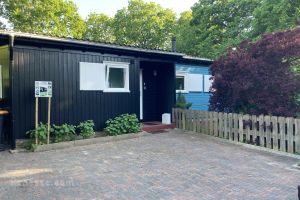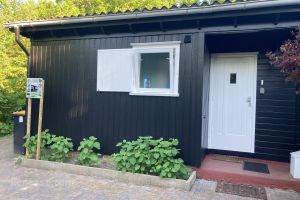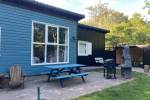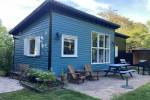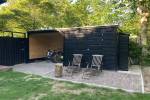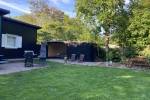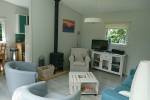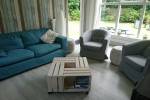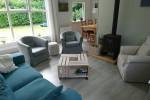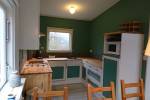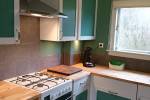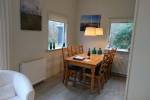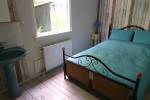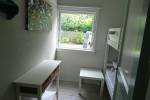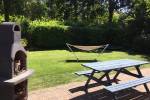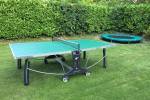 This house is suitable for 4 people. It has a very spacious garden with several terraces, so that you can always stay in the sun or shade of your choice. The house is completely furnished with a spacious, light living room. Wonderfully close to the beach 300m away. There are also four mountain bikes available, a trampoline and an outdoor table tennis table.
The garden has a wooden garden table with chairs, 4 sun loungers and a picnic table. There is also an outdoor fireplace / barbecue and a fire pit. You can use the parasol, the garden cushions and the hammock. In the garden shed there is also a fridge / freezer that can be used.

This fall we want to place two new barns 1 for private items and 1 for all items that can be used by guests. We want to use the garden house as an extra bedroom.

Pets can come in consultation in the early and late season. In the high season we are pet free. This fall we will also be fencing the last parts of the garden.
Characteristics
Price indication: €575,00 to €875,00 per week.
Max. 4 personen.

Bedrooms: 2.
Bedden: 1.
Stapelbed.
Bathrooms: 1.

Floor space: ±60 m².
Pets allowed after consultation.
No smoking.
Wood stove.
Kitchen
Refrigerator.
Freezer.
Coffee machine.
Water boiler.
Toaster.
Dishwasher.
Oven.
Microwave.
Media
Wi-Fi internet.
TV.
Foreign TV channels.
DVD-player.
Radio.
CD-player.
Child Facilities
High chair (child/baby chair).
Outside
Garden.
Terrace.
Garden furniture.
Car parking place.
Bicycle storage.
Storage room.
BBQ.
Location
Distance to the beach: ±300 m.
Distance to the city centre: ±1,0 km.
Not on holiday park.
By the sea.
Detached.
Occupancy rate
September 2022
35
1
2
3
4
36
5
6
7
8
9
10
11
37
12
13
14
15
16
17
18
38
19
20
21
22
23
24
25
39
26
27
28
29
30
October 2022
39
1
2
40
3
4
5
6
7
8
9
41
10
11
12
13
14
15
16
42
17
18
19
20
21
22
23
43
24
25
26
27
28
29
30
44
31
November 2022
44
1
2
3
4
5
6
45
7
8
9
10
11
12
13
46
14
15
16
17
18
19
20
47
21
22
23
24
25
26
27
48
28
29
30
December 2022
48
1
2
3
4
49
5
6
7
8
9
10
11
50
12
13
14
15
16
17
18
51
19
20
21
22
23
24
25
52
26
27
28
29
30
31
January 2023
52
1
01
2
3
4
5
6
7
8
02
9
10
11
12
13
14
15
03
16
17
18
19
20
21
22
04
23
24
25
26
27
28
29
05
30
31
February 2023
05
1
2
3
4
5
06
6
7
8
9
10
11
12
07
13
14
15
16
17
18
19
08
20
21
22
23
24
25
26
09
27
28
March 2023
09
1
2
3
4
5
10
6
7
8
9
10
11
12
11
13
14
15
16
17
18
19
12
20
21
22
23
24
25
26
13
27
28
29
30
31
April 2023
13
1
2
14
3
4
5
6
7
8
9
15
10
11
12
13
14
15
16
16
17
18
19
20
21
22
23
17
24
25
26
27
28
29
30
May 2023
18
1
2
3
4
5
6
7
19
8
9
10
11
12
13
14
20
15
16
17
18
19
20
21
21
22
23
24
25
26
27
28
22
29
30
31
June 2023
22
1
2
3
4
23
5
6
7
8
9
10
11
24
12
13
14
15
16
17
18
25
19
20
21
22
23
24
25
26
26
27
28
29
30
July 2023
26
1
2
27
3
4
5
6
7
8
9
28
10
11
12
13
14
15
16
29
17
18
19
20
21
22
23
30
24
25
26
27
28
29
30
31
31
August 2023
31
1
2
3
4
5
6
32
7
8
9
10
11
12
13
33
14
15
16
17
18
19
20
34
21
22
23
24
25
26
27
35
28
29
30
31
September 2023
35
1
2
3
36
4
5
6
7
8
9
10
37
11
12
13
14
15
16
17
38
18
19
20
21
22
23
24
39
25
26
27
28
29
30
October 2023
39
1
40
2
3
4
5
6
7
8
41
9
10
11
12
13
14
15
42
16
17
18
19
20
21
22
43
23
24
25
26
27
28
29
44
30
31
November 2023
44
1
2
3
4
5
45
6
7
8
9
10
11
12
46
13
14
15
16
17
18
19
47
20
21
22
23
24
25
26
48
27
28
29
30
December 2023
48
1
2
3
49
4
5
6
7
8
9
10
50
11
12
13
14
15
16
17
51
18
19
20
21
22
23
24
52
25
26
27
28
29
30
31
January 2024
01
1
2
3
4
5
6
7
02
8
9
10
11
12
13
14
03
15
16
17
18
19
20
21
04
22
23
24
25
26
27
28
05
29
30
31
Location