Diving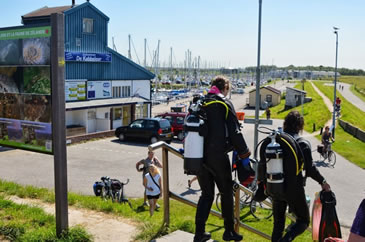 The brackish and saline water with a variety of animal life and plants make Schouwen-Duiveland the number one diving location in the Netherlands.
Oosterschelde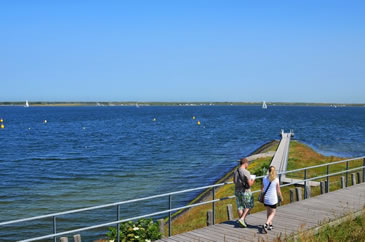 There are a number of diving locations along the south coast of Schouwen-Duiveland. A popular spot is the area close to the Zeeland bridge near Zierikzee. A vast variety of tunicates, bread crumb sponges and frilled anemone are common here. Furthermore, lots of shrimp and large lobsters can be found in this area. This diving spot is popular because almost every year in May egg depositing cuttlefish are present. Apart from several species of fish, which are characteristic to this region, you can also come across dwarf cuttlefish.
Grevelingenmeer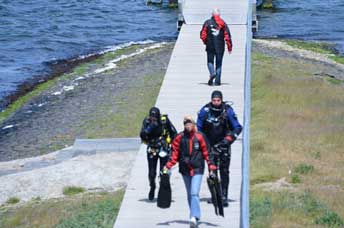 Previously the Grevelingenmeer was an open estuary to the North Sea, which was connected to the east through the Volkerak with the fresh water of the Rhine and Meuse rivers. The Gravelingen is now a stagnant saline lake with an area of approximately 14,000 hectometers and is a very interesting diving location where the safe diving can be thanked to the lack of currents. You may encounter a single wreck, and many anemones, starfish, sea squirts, sponges and eels. There are various diving locations including the harbor of Scharendijke, where diving center De Kabbelaar is also located.
North Sea
Diving in the North Sea is an experience that is only reserved for the more experienced divers. The often strong currents, waves and diving in open water make it necessary to have the needed skills. The sea floor is littered with thousands of wrecks. New wrecks are found quiet often. Most of the wrecks are beautifully overgrown, and certainly pleasing to the eye and the camera. During the dive you are often surrounded by large schools of fish. Cods of over one meter are no exception here, and the dogfish show themselves more and more often. Large lobsters and crabs scurry across the bottom of the sea in search of something edible.
Adressen
Hogezoom 149, Renesse
tel. +31 111 461 238
web.
Website
Haven Kloostenol 3, Scharendijke
tel. +31 651 520 086
web.
Website
Haven Kloostenol 3, Scharendijke
tel. +31 111 671 913
mob. +31 653 165 378
web.
Website
Haven Kloosternol 3, Scharendijke
tel. +31 111 671 913
web.
Website
Noord Achterweg 2, Ouwerkerk
tel. +31 111 642 855
web.
Website
Rollerkootsedijk 1, Nieuwerkerk
tel. +31 111 647 090
web.
Website