Zwaluw - Cottage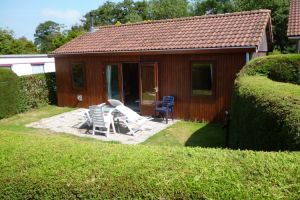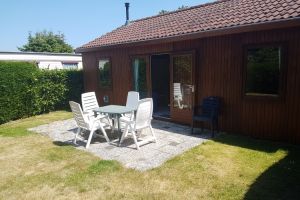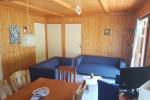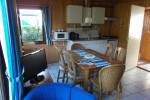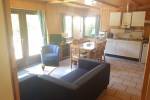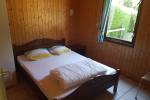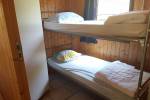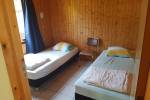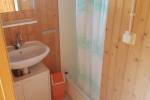 De Zwaluw is een vakantiewoning van ca. 60 m2 groot en heeft een woonkamer met tuindeuren, open keuken, douche en apart toilet, slaapkamer met twee eenpersoonsbedden ,slaapkamer met tweepersoonsbed, slaapkamer met stapelbed.
Verder een afgeschermde tuin, parkeren bij huisje mogelijk, huisdieren zijn in overleg toegestaan.

Zomerhuis is gelegen op een kleine camping aan de rand van Renesse tussen een natuurgebied.

Kenmerken ;
-Eindschoonmaak; 30 Euro.
-Badkamer met douche.
-Apart toilet.
-Open keuken .

Locatie
-Mini-Supermarkt / Restaurant / Frituur 200 m1.
-Laadpaal voor elektrisch voertuig in overleg beschikbaar.
For information and reservation
Fam. Jelier-Kooman
Hogezoom 101, Renesse
tel. +31 111 672 390
mail.
E-mail
web.
Website
Characteristics
Price indication: €400,00 to €650,00 per week.
Max. 6 personen.

Bedrooms: 3.
Bedden: 4.
Stapelbed.
Bathrooms: 1.

Floor space: ±55 m².
Pets allowed after consultation.
Gas fireplace.
Kitchen
Refrigerator.
Coffee machine.
Water boiler.
Microwave.
Media
Wi-Fi internet.
TV.
Foreign TV channels.
Radio.
Outside
Garden.
Terrace.
Garden furniture.
Car parking place.
Location
Distance to the beach: ±1,7 km.
Distance to the city centre: ±800 m.
In forest.
Detached.
Occupancy rate
November 2022
44
1
2
3
4
5
6
45
7
8
9
10
11
12
13
46
14
15
16
17
18
19
20
47
21
22
23
24
25
26
27
48
28
29
30
December 2022
48
1
2
3
4
49
5
6
7
8
9
10
11
50
12
13
14
15
16
17
18
51
19
20
21
22
23
24
25
52
26
27
28
29
30
31
January 2023
52
1
01
2
3
4
5
6
7
8
02
9
10
11
12
13
14
15
03
16
17
18
19
20
21
22
04
23
24
25
26
27
28
29
05
30
31
February 2023
05
1
2
3
4
5
06
6
7
8
9
10
11
12
07
13
14
15
16
17
18
19
08
20
21
22
23
24
25
26
09
27
28
March 2023
09
1
2
3
4
5
10
6
7
8
9
10
11
12
11
13
14
15
16
17
18
19
12
20
21
22
23
24
25
26
13
27
28
29
30
31
April 2023
13
1
2
14
3
4
5
6
7
8
9
15
10
11
12
13
14
15
16
16
17
18
19
20
21
22
23
17
24
25
26
27
28
29
30
May 2023
18
1
2
3
4
5
6
7
19
8
9
10
11
12
13
14
20
15
16
17
18
19
20
21
21
22
23
24
25
26
27
28
22
29
30
31
June 2023
22
1
2
3
4
23
5
6
7
8
9
10
11
24
12
13
14
15
16
17
18
25
19
20
21
22
23
24
25
26
26
27
28
29
30
July 2023
26
1
2
27
3
4
5
6
7
8
9
28
10
11
12
13
14
15
16
29
17
18
19
20
21
22
23
30
24
25
26
27
28
29
30
31
31
August 2023
31
1
2
3
4
5
6
32
7
8
9
10
11
12
13
33
14
15
16
17
18
19
20
34
21
22
23
24
25
26
27
35
28
29
30
31
September 2023
35
1
2
3
36
4
5
6
7
8
9
10
37
11
12
13
14
15
16
17
38
18
19
20
21
22
23
24
39
25
26
27
28
29
30
October 2023
39
1
40
2
3
4
5
6
7
8
41
9
10
11
12
13
14
15
42
16
17
18
19
20
21
22
43
23
24
25
26
27
28
29
44
30
31
November 2023
44
1
2
3
4
5
45
6
7
8
9
10
11
12
46
13
14
15
16
17
18
19
47
20
21
22
23
24
25
26
48
27
28
29
30
December 2023
48
1
2
3
49
4
5
6
7
8
9
10
50
11
12
13
14
15
16
17
51
18
19
20
21
22
23
24
52
25
26
27
28
29
30
31
January 2024
01
1
2
3
4
5
6
7
02
8
9
10
11
12
13
14
03
15
16
17
18
19
20
21
04
22
23
24
25
26
27
28
05
29
30
31
Location