Strandgaper 6 personen - Cottage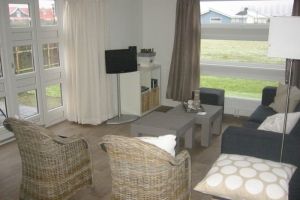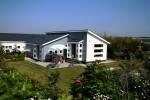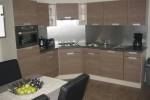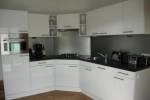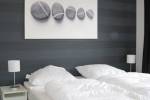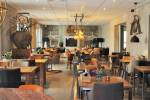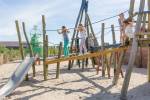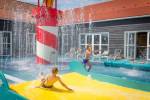 Het type Strandgaper is 75m2 groot en beschikt over een gezellige woonkamer met openslaande deuren, een aparte woonkeuken, drie slaapkamers, een badkamer met apart toilet en een inpandige berging. Geschikt voor maximaal 6 personen.

De keuken is uitgerust met een combi- magnetron, vaatwasser, gaskookplaat en alle bijbehorende keukenapparatuur. Via de woonkeuken kunt u met twee treden omhoog om toegang te krijgen tot de gezellig ingerichte woonkamer.

In een aantal chalets zijn huisdieren toegestaan en is een wasmachine aanwezig.

3 slaapkamers
Badkamer met apart toilet
Vaatwasser, oven, keukenapparatuur aanwezig
In een aantal wasmachine aanwezig
Huisdieren beperkt mogelijk

Deze chalets staan op 'Strandpark de Zeeuwse Kust'. Een unieke locatie vlak onder de duinen van Renesse, op zo'n 250 meter afstand van het Noordzeestrand.
For information and reservation
Strandpark De Zeeuwse Kust
Helleweg 8, Renesse
tel. +31 111 468 282
mail.
E-mail
web.
Website
Characteristics
Price indication: From €770,00 per week.
Max. 6 personen.

Bedrooms: 3.
Bedden: 4.
Stapelbed.
Bathrooms: 1.

Floor space: ±75 m².
Pets allowed after consultation.
Kitchen
Refrigerator.
Coffee machine.
Water boiler.
Dishwasher.
Combi microwave.
Outside
Terrace.
Garden furniture.
Location
Distance to the beach: ±250 m.
Distance to the city centre: ±2,0 km.
Occupancy rate
December 2022
48
1
2
3
4
49
5
6
7
8
9
10
11
50
12
13
14
15
16
17
18
51
19
20
21
22
23
24
25
52
26
27
28
29
30
31
January 2023
52
1
01
2
3
4
5
6
7
8
02
9
10
11
12
13
14
15
03
16
17
18
19
20
21
22
04
23
24
25
26
27
28
29
05
30
31
February 2023
05
1
2
3
4
5
06
6
7
8
9
10
11
12
07
13
14
15
16
17
18
19
08
20
21
22
23
24
25
26
09
27
28
March 2023
09
1
2
3
4
5
10
6
7
8
9
10
11
12
11
13
14
15
16
17
18
19
12
20
21
22
23
24
25
26
13
27
28
29
30
31
April 2023
13
1
2
14
3
4
5
6
7
8
9
15
10
11
12
13
14
15
16
16
17
18
19
20
21
22
23
17
24
25
26
27
28
29
30
May 2023
18
1
2
3
4
5
6
7
19
8
9
10
11
12
13
14
20
15
16
17
18
19
20
21
21
22
23
24
25
26
27
28
22
29
30
31
June 2023
22
1
2
3
4
23
5
6
7
8
9
10
11
24
12
13
14
15
16
17
18
25
19
20
21
22
23
24
25
26
26
27
28
29
30
July 2023
26
1
2
27
3
4
5
6
7
8
9
28
10
11
12
13
14
15
16
29
17
18
19
20
21
22
23
30
24
25
26
27
28
29
30
31
31
August 2023
31
1
2
3
4
5
6
32
7
8
9
10
11
12
13
33
14
15
16
17
18
19
20
34
21
22
23
24
25
26
27
35
28
29
30
31
September 2023
35
1
2
3
36
4
5
6
7
8
9
10
37
11
12
13
14
15
16
17
38
18
19
20
21
22
23
24
39
25
26
27
28
29
30
October 2023
39
1
40
2
3
4
5
6
7
8
41
9
10
11
12
13
14
15
42
16
17
18
19
20
21
22
43
23
24
25
26
27
28
29
44
30
31
November 2023
44
1
2
3
4
5
45
6
7
8
9
10
11
12
46
13
14
15
16
17
18
19
47
20
21
22
23
24
25
26
48
27
28
29
30
December 2023
48
1
2
3
49
4
5
6
7
8
9
10
50
11
12
13
14
15
16
17
51
18
19
20
21
22
23
24
52
25
26
27
28
29
30
31
January 2024
01
1
2
3
4
5
6
7
02
8
9
10
11
12
13
14
03
15
16
17
18
19
20
21
04
22
23
24
25
26
27
28
05
29
30
31
Location