Stoofweg - VZ809 - Chalet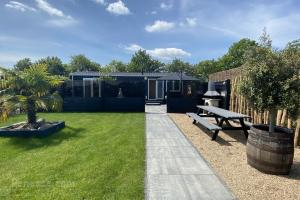 In a very quiet location just outside Renesse and only two kilometers from the beach you can rent this cozy 4 person chalet.It is very private and offers a view over the meadows of the adjacent riding school. It is an ideal destination to take a nice break. Here you can enjoy the peace and beautiful surroundings. Moreover, this chalet is very conveniently located. Both the beach and the center are close by.This new chalet is located in Renesse. Renesse in particular is known for its dunes, wide beaches, nice and cozy terraces and a vibrant nightlife. On the beach there are several options for water sports and there are also several beach pavilions. A wonderful location where you can enjoy a wonderful holiday with 4 people. This chalet is next to Manege Grol so you can bring your horse with you. So don't wait too long to rent this new chalet for a great holiday on the North Sea beach near Renesse.
4 person holiday chalet in Renesse
For information and reservation
Search & Book
Stoofweg, Renesse
tel. +31 118 744 025
web.
More information