Tennis & Midgetgolf Renesse - Attraction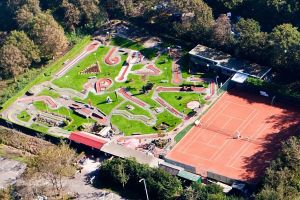 The miniature golf course consists of 18 courses as standard. The courts are equipped with artificial grass and are approximately 10 to 15 meters long. Due to the different levels in the jobs, there is a lot of variety in the game. From easy to difficult.
Tennis
The site also has two clay tennis courts. You can rent a tennis court from us, for a single hour, or reserve it for several consecutive periods.
Opening hours
Open 7 days from April to mid-November from 10am to 7pm. Unless otherwise indicated. Opening times may vary in September, October and November. We are closed from mid-November to mid-March. See the website for more information.
Furthermore Tennis & Midgetgolf Renesse is near the following sights: Climbing the church tower of Renesse (±800 m), Funtastic Casino Renesse (±850 m), Bowling Renesse (±850 m), Funhouse Renesse (±850 m) & Slot Moermond (±1,5 km).
For information:
Jan van Renesseweg 23a, Renesse
tel. +31 111 462 116
web.
Website