Slot Moermond - Monument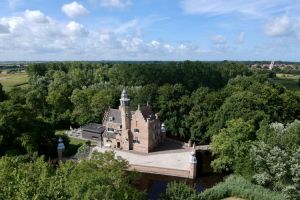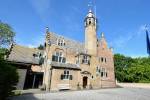 Op het prachtige landgoed Moermond ligt het imposante Slot Moermond met haar brede oprijlaan en mooie authentieke gracht. Het openbaar toegangelijke landgoed is een 45 hectare grote beschermd natuurgebied met bossen, waterpartijen, rietvelden en vele soorten dieren zoals damherten, reeën, fazanten, buizerds, reigers en diverse andere vogelsoorten.
Het huidige Slot Moermond is het derde kasteel dat op die plek is gebouwd. Het is eigenlijk geen echt middeleeuws kasteel meer, maar een samensmelting van bouwstijlen uit verschillende eeuwen. Het eerste kasteel werdt gebouwd in 1229 door Costijn van Zierikzee en hiervan zijn slechts enkele muren behouden. Het tweede kasteel is gebouwd in 1339 door Aernoud van Haamstede (1320-1348) en hiervan is alleen het poortgebouw behouden. Het huidige Slot Moermond is in 1513 door Jacob van Serooskerke (1460-1531) gebouwd. Het oude poortgebouw is toen verbouwd tot woontoren.
Op landgoed Moermond bevindt zich ook een viersterren hotel, op 300 meter van Slot Moermond. Het is ligt naast de voormalige Orangerie, die nu wordt gebruikt als restaurant.
Kenmerken
Naam: Slot Moermond
Bouwjaar: 1513
Rijksmonument: Sinds
Toegankelijk voor publiek: Nee, het kasteel alleen te huur voor besloten bijeenkomsten zoals vergaderingen, bruiloft, feesten en congressen.
Furthermore Slot Moermond is near the following sights: Climbing the church tower of Renesse (±850 m), Bowling Renesse (±1,1 km), Funhouse Renesse (±1,1 km), Funtastic Casino Renesse (±1,1 km) & Tennis & Midgetgolf Renesse (±1,5 km).
For information:
Laone 10, Renesse