Lagezoom - VZ890 - Cottage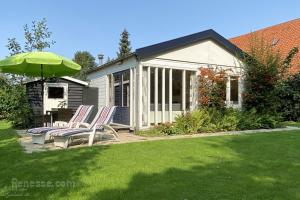 This simple detached 4-person holiday home is located on its own yard next to a beautiful monumental farmhouse with stepped gable from 1664. This holiday home is fully furnished. Quiet and rural location with stunning views over the countryside. Centrally located and within cycling distance of nature reserve, beach and village center Renesse and Burgh Haamstede with shops and cozy terraces.This holiday home has a large, sunny private garden of approx. 500 m2 and a terrace that offer a lot of privacy, in short, a very surprising place to stay. It is an ideal holiday home for families with children, sporty guests and anyone who loves peace and nature. The beach is close by. By bike, through the dune area you are there within fifteen minutes and by car in five minutes. The location is ideal for all kinds of water sports such as swimming, diving and sailing, or just relax and sunbathe on the family beach, you can also spot seals on the sandbank in Renesse.Renesse is a very pleasant village where you can stroll along the shops or enjoy a drink on a terrace. Schouwen-Duiveland and its nature are ideal for long cycling and walking tours, where the landscape constantly changes from dunes to forests to polder landscapes. You will certainly experience a fantastic beach holiday in Renesse.- Minimum age 25 years.- 2 dogs, no cats or other pets allowed.- You can use the washing machine free of charge once a week.
4 Persons Holiday home in Renesse
For information and reservation
Search & Book
Lagezoom, Renesse
tel. +31 118 744 025
web.
More information