Iguana Reptile Zoo - Attraction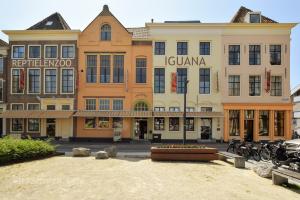 Spread over three large buildings are around a subtropical greenhouse which is home to 500 live reptiles, amphibians and insects, all safely behind glass. They come from all over the world, and visitors get to know all about them by reading the info signs.
Pay a visit to the nursery, where eggs are hatched and the young creatures can be seen, or take a break from all the impressions in the coffee corner.
Furthermore Iguana Reptile Zoo is near the following sights: Maritime MuZEEum Zeeland (±200 m) & Cine City (±400 m).
For information:
Reptielenzoo Iguana
Bellamypark 31-35, Vlissingen
tel. +31 118 417 219
web.
Website