Stoofweg - VZ712 - Apartment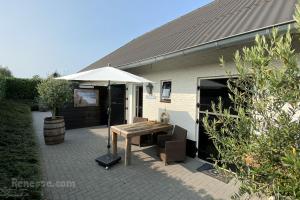 At a very peaceful location just outside of Renesse and at only two kilometers from the beach, you can rent this cozy two-person holiday apartment. It's modestly furnished, but comes equipped with all basic facilities. It's very privately situated and offers a view of the meadows and the adjacent riding stables. It's the ideal destination for going away with the two of you in order to enjoy the peace and the beautiful surroundings. Go for a wonderful walk along the Zeeland beaches or enjoy sitting on your terrace, go on stunning bicycle trips through the area, it's all possible if you rent this cozy two-person holiday apartment just outside of Renesse. 
Cozy two-person holiday apartment at very peaceful location in Renesse near the beach
For information and reservation
Search & Book
Stoofweg, Renesse
tel. +31 118 744 025
web.
More information